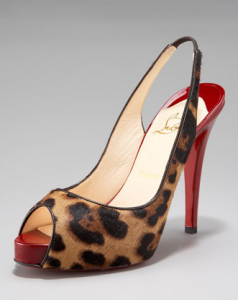 Ah, shoes…need I say more? Summer is winding down but that means as the fall season arrives, so does an amazing array of chic footwear to dress up your feet.
Rrrrrraaaaarrr!!
One noticeable staple of every fall season is none other than the classic and yet bold leopard print; not only is it versatile enough to compliment any outfit, it practically is the outfit. You can play it down with a pair of skinny jeans for a casual day look or make it part of your glamorous evening look with a cocktail dress. One pair that I've been scoping out are the Christian Louboutin – No Prive Leopard Pony Pump.  So be sure to embrace the inner feline in you—a little untamed, a little dangerous, but always chic.
Another essential piece for 2010? Definitely the ladylike pumps. Elegant, polished and stylish, these shoes shine above all others with their exquisite detailing and what else, their sky-high heels. They'll add a feminine touch to whatever look you're going for, lengthen your legs, and make you the star anytime of the day, whether you're going to a upscale soiree or just waiting for the bus. Speaking of the feminine touch, this season besides the romantic bows, ruffles and satin, we're also seeing a lot of feminine colours such as fuchsias and purples that break out of the mold of the usual browns, greys, and blacks. The Valentino – Pretty Bow Patten Pump are a perfect example of what you'll see this fall. These colourful shoes will brighten the typically dark palettes of fall wardrobe and describe your personality without you having to say a word. Just let your shoes do the talking!
Mmmm… Stud-ly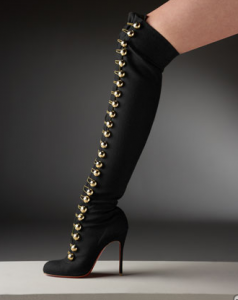 What if you're looking for something a little more rock and roll? Studded heels or ankle boots will help you achieve that edgier look with lots of metal, leather, and attitude—just tousle your hair and put on some black eyeliner and you're good to go. Christian Louboutin – Over the Knee Boot are perfect for transitioning from Summer into Fall. Over the knee boots are nothing new, they've made their mark on the fashion scene last year all over the catwalks of major fashion houses and on the sidewalks of urban cities. Now they're reaching a new height—as in the higher the better! Petite girls seem to love this style as it creates the illusion of longer legs that conventional boot styles just can't deliver, sorry uggs.
So don't fret over the fading sunlight or the dreaded rain, because fall is the best season for you to stand out from the rest. Be prepared to cause a scene with your show-stopping footwear!