Feeling the chills of September? It's time to pack away the minis and embrace something a little warmer while still keeping the chic appeal intact!
C'est Faux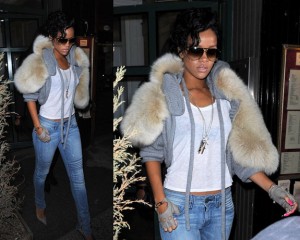 First up is the saturation of faux fur that we're seeing all over this season's runways and sported by one of our favorite fashionistas Rihanna. Like it or not, this furry look is anything but boring and it is here to stay. Faux fur vests, faux fur jackets, you name it—they're the most sought-after items of fall 2010. They're the hottest pieces around, literally!
Attention!!
Remember a younger, less crazy Tom Cruise back when he was in "A Few Good Men", rockin' that military look? While Tom is slowing down on the "people's choice" meter, the military trend continues to march on into the realm of popularity thanks to stars like Madonna. Burberry's 2010 fall line has some great pieces that exemplify this silhouette. Also check out Ali Ro's 2010 fall lineup for more dramatic looks. You can take this look up a notch by using pieces such as buttons and pins or any other military-inspired accessories. Don't go overboard though—you want a stylish military look, not a crazy uniform.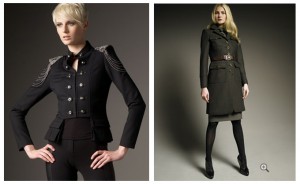 Straighten Up Your Act
Structure and clean silhouettes are everywhere. After years of gushing over the "hobo-chic" look, designers seem to embrace the polar opposite with super structured, impeccably tailored jackets and shirts, not to mention dresses that fit to a tee. Invest in a piece of well-made, structured dress and it will transform you from "I just woke up five minutes ago" to "polished goddess" in no time!
The key to pulling off a clean silhouette is to keep your accessories simple and dial up the glamour with a pair of satin ladylike pumps embellished with elegant jewels, lace, or ruffles.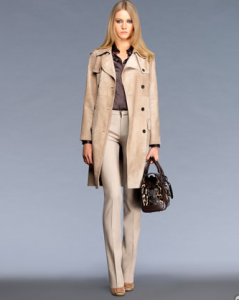 Black Ain't Back!
Finally, guess what? Black isn't back! How many times do you find yourself reaching for the black option at a boutique and pulled yourself back and said: "I've got way too many blacks"? Pat yourself on the back and keep walking! Say no to basic black and get ready for all shades of greys and browns. Keep your pretty neck out of the cold with a brown scarf that has a hint of gold shimmer in it because the golden tone will create a frame of light around your face and bring an instant glow! Not a fan of brown? Why not step out in a pair of light-grey, suede pumps? They'll pop against your skinny jeans or leggings and keep you on the scene of the latest trend. Don't forget to finish the look with a grey nail polish! Come to the Salon Beauty Bar and let us pamper you with "Waking Up In Vegas", the hottest nail polish made famous by Lady Gaga.
While the weather may be getting lousy, and it's a shame that soon we'll be covering ourselves under layers of fabric, we can still look forward to a season of brilliant fashion trends that make hiding our beach-ready body a fun thing to do.