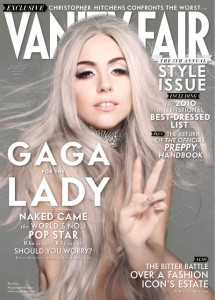 It looks like it will be raining shades of Grey this fall. Whether it's matte / shiny or shimmery, Grey is the subject of gossip all around! Leading this whirlwind storm of grey is none other than the icon of outrageously fabulous style: Lady Gaga! Not only is she busy headlining her Monster Ball 2010 concert tour, she's headlining fashion news everywhere with her September issue of Vanity Fair cover where she channels another powerful revolutionary—Lady Godiva—by wearing nothing but a gorgeous head of silvery grey locks and rockin' a spectacular matching shade of nail lacquer, one that we will be featuring at the Salon Beauty Bar.
Not surprisingly, this lacquer has already sold out before the magazine has even hit the shelves! Wonderfully dubbed "Waking Up In Vegas", this lacquer is a greige crème that hits all the right notes. Some even say it is the symbolic colour of New York. It's chic, urban, edgy, and high-fashion, an eerily perfect description of Lady Gaga herself don't you think?
The brainchild behind this famous concotion? Deborah Lippman, who's also the creator of "Bad Romance" (read the review by All Lacquered Up.com) —a rich, sparkly, and glamorous deep purple shade named after Lady Gaga's popular song.
Not only did Deborah create the trend-setting grey seen on Gaga's nails as the icon strikes an alluring pose topped off with a peace sign with her hand on the oh-so-popular Vanity Fair cover, she also had the honor of painting Lady Gaga's nails for the shoot.
Can we say we're jealous?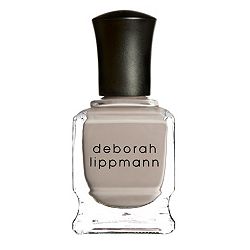 The reason I chose Lady Gaga as our feature look at the Salon this month is because, not only do I love her music, but I love her courage to be an individual.  She takes risks on artistically representing herself to the World.  Perhaps a bit of a non-conformist, but don't we all have, at minimum, a little rebel inside? I think it's because of this fearless attitude to wake up every morning and challenge the status quo that everyone can just focus on her as a serious performer – not just another freak show.
No matter what she does, she seems to know herself, and it is this absolute confidence that draws her fans, and one thing we all agree on: we can't get enough of Lady Gaga. She is beyond just another musician, just another star; she has the spark of wild spontaneity meets true creative talent running through her blood.
Setting trends seems to be in the DNA of Lady Gaga, and I'm excited to see what she has in store for us next!
Exciting news! As our feature for September, The Salon Beauty Bar has access to the "Waking Up In Vegas" color-greige crème! Book an appointment today and be one of the first and only in Vancouver to be rockin' the Lady Gaga Vanity Fair nail look and keep your fingertips at the tip of the latest trend!