New Year, New YOU! Our One-Stop-Beauty Shop is Happy to announce that we now have added Eyelash Extensions to our Delicious Beauty Menu!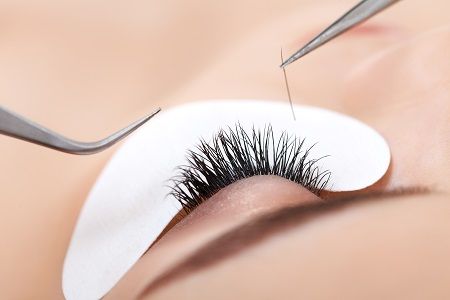 Photo Credit: Pinterest
Say goodbye to your additional 15 mins – a – morning to get the perfect eye! Be confident enough to say #IWokeUpLikeThis! Every client has a different eye shape as well as lash type – we customize every appointment based on the health of your lashes, and marry them to the look you would like to achieve!
Not sure of what kind of lashes to get? Check out a few eyelash shape types:
There are a few different eyelash types you can request from your technician, and how it's done based on your eyelash health is completely customizable! We also offer a more voluminous look – the 3D Russian eye! The 3D Russian look creates a multi-dimensional, thicker mascara look which can also last longer than regular eyelash extensions!
Different types of Lash Curls:
        Besides Eyelash shapes, there are also different types of eyelash curls!  The lashes can be defined by letter (how the lash is curved), length & diameter. Dependent on the strength of your own personal lashes, each case is different in terms of what type of length, diameter & shape of extension you should get. To understand more of what kind of lash curls you can have, check out the example below:
Some Frequently Asked Questions – Look no further!
How long do lash extensions last?
Great question! Our lashes are designed to last anywhere from 3 – 5 weeks. Dependent on the type of style you prefer, the 3D Russian lashes can last up to 8 weeks with proper lash care. We recommend getting a fill every 2 to 3 weeks – depending on how quickly your lashes grow. If you wait too long between fills, you will require another full set.
How do you take care of your lashes? Check out our 10 Lash Commandments below.
The Salon Beauty Bar's 10 Lash Commandments for for proper lash care:
Thou shall keep the new lash extensions dry for at least 24 hours

Thou shall avoid long hot showers and steamy saunas after the lash extensions are applied

Thou shall keep one's lash extensions away from cosmetic products that contain oil

Thou shall not use a cotton make up pad to clean lashes for the cotton fibre may damage the eyelash extensions

Thou shall avoid tugging and getting lash extensions caught on towels or cloths

Thou shall not perm, curl or tint one's eyelash extensions

Thou shall not use waterproof mascara for one must use an oil based cleanser to clean it off

Should mascara even be required, one must use a special formulated mascara designed for eyelash extensions

Thou shall not PANIC when a few lash extensions fall out. Due to the cycle of natural lashes, eyelash extensions will shed and thin out over time

Thou shall love and cherish thou new eyelash extensions and take them back to refill every 2-3 weeks to keep them looking beautiful and full
Will eyelash extensions damage my natural lashes?
Not at all! Our eyelash extensions are applied carefully and properly on your own natural eyelashes one by one (without touching the skin). Minimal but adequate amount of glue is used without looking and feeling clumpy and heavy. Â We only put on correct, healthy sizes of lashes will be applied on your lashes without putting stress on your natural lashes. With proper care and attention, the lash extensions will not damage your natural ones.
 Does the process hurt?
There is no pain in this process! Our clients describe the experience as very relaxing – some even fall asleep while their lashes are being applied.
*After the application, you won't feel the extensions at all, they are soft, lightweight and comfortable to wear.
 Additional key points:
Eyelash extension is applied on each individual natural lash
Nothing (glue or lash extensions) Â is applied on skin
No two (or more) eyelashes stuck together
Latex-free tools are used
Formaldehyde-free glue is used
  
Can I apply mascara to my eyelash extensions?
 
Since the lashes are dark and full, there really is no need for mascara! Normal mascaras have the ability to dissolve the bonding agent and shorten the life of your eyelash extensions, therefore, causing them to fall sooner. Also, eyelash extensions will look clumpy and heavy with mascara.
However, if you'd like to, you can, as long as it's a water-based mascara and only use it on the tips of the extensions and with a very light hand. Care also needs to be taken in washing off the mascara. Only use a water based eye makeup remover.
 
How do I know what set/service I should get?
 
We start each new client with a consultation to make sure you get the look you want! Our lash technician will analyze your current lash length, curve and eye shape and make recommendations.
You're never stuck with just one look. Want to try something different? We can change it up at your next fill.
 
What is the difference between:
Classic vs. Russian Volume?
Classic – One lash (Eyelash extension) on one natural lash. For ladies who want to achieve a non-clumpy mascara look that is dark and defined but still has a clean look.  Mascara tends to group your eyelashes together, but with the classic, your lashes will be refined and flawless.
 
Russian Volume – 2-6 lashes on one natural lash. For girls who is looking for a denser, fuller and more lush look.  And, it will give you an illusion of eyeliner.
 
Let's kick off this 2017 strong by having the best lashes in the city! Get your free nap with your next lash appointment 😉  Have a FabuLash weekend ladies!
For more information: check out our Instagram!
Xo
TSBB