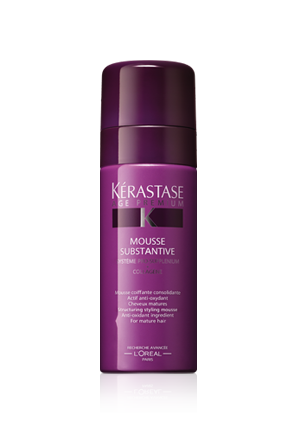 If you've ever wondered why Kérastase is the #1 leading luxury hair care line in the industry, this is why: The company is constantly keeping up with the demands of customers and professionals and maintains high standards. Most importantly, Kérastase relies on continuous research to find innovative ways to improve hair care. And they have surpassed expectations once again. Ladies, we would like to introduce you to Mousse Substantive. Or as I like to call it, collagen in a bottle.
Mousse Substantive is the newest addition to the Age Premium Line. Like we mentioned before, it has collagen in it. Yes ladies, I said collagen! The magical protein plumps the hair and gives it massive volume. The spring trend report is forecasting the return of 80s in full force. So how perfect is this new product?
Mousse Substantive is the fountain of youth for your tresses and it really does it all. The formula relies on collagen to impart weightless density and flexibility to hair. This gives your style a longer life by plumping your strands at the root and adding body and definition. Almost like a science fiction plot, the potion injects hair with the intra cylane molecule. When the molecule comes into contact with water it expands to create a 3-dimensional framework strengthening the hair from within. Hair looks and feels thicker and is significantly more manageable.

The benefits don't end there. The dedicated scientists at Kérastase have found that hyaluronic acid works the same on the hair and scalp as it does on the skin. For the first time ever, Kérastase is using the acid in a hair care product. This addition results in a hydrated, balanced, and nourished scalp. A calcium derivative protects and firms the structure of the weakened hair and essential minerals prevent porosity. A vitamin F derivative, combined with ceramide. rejuvenates the hair fiber using a dose of nutrition to repair and protect strands on a cellular level. As if  you needed more convincing, an antioxidant ingredient, pomegranate extract, works well with all hair types, especially mature hair. It combats oxidative aggressors and environmental damage and also provides a UV filter. This is perfect for protecting your hair in the spring and summer sunshine.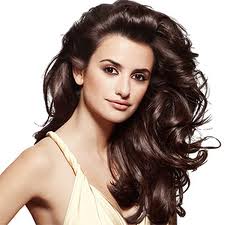 Simply add a few puffs to towel dried hair, comb through, and style for long lasting hold, conditioning, and incredible body. Not only will your hair look amazing, but it will actually be healthier. Mousse Substantive is the perfect solution for fine, limp, and mature hair.
The product has become the most sought after formula among the fashion elite. Hair stylist, Odile Gilbert, even used Mousse Substantive on the Jill Stuart Fall 2012 runway to give the models' hair texture prior to blow drying. Former model, actress, and wife of Channing Tatum, Jenna Dewan-Tatum, also prepped her hair with the product before attending Mercedes Benz Fashion Week events. Stop by THE Salon to add some oomph to your style. As they say, Go BIG or Go HOME!