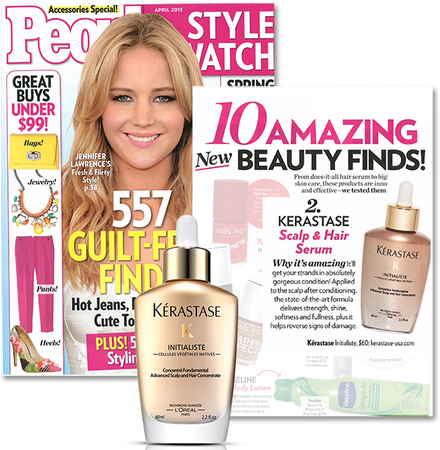 We're going to fill you in on the revolutionary one and only hair care serum available on the market today: Initialiste! Who created it? The amazing luxury hair care line, Kérastase, of course. And now for a little known fact: Kérastase invented the first ever hair serum. So ladies, you can thank them for forever changing your beauty regimen! The geniuses are at work again with their latest product.
Within months of its initial launch, Initialiste has graced the pages of all the leading magazines, including People, InStyle, W, US Weekly, and the list goes on.
Why so much press? Probably because it's the first miracle serum that will change the way your hair looks and feels in weeks! Statistics show that nine out of ten women saw visible results after using Initialiste for seven days! Amazing! It's seriously a hair care revolution!
The testimonials speak for themselves. In fact, I personally use this product and can honestly say my hair has grown dramatically. When I blow-dry my tresses they are clearly much thicker, as it takes a bit longer. I'm convinced that Initialiste is a wonder serum that all hair lovers shouldn't be without!
Kérastase has developed this skin care-inspired advanced scalp and hair concentrate to act on the four attributes of total hair beauty:
Strength
Shine
Softness
Substance
If your hair suffers from breakage or loss of vitality, you over-brush, or are a repeat offender of chemical processing, give you hair some TLC and start using Initialiste today! It's super easy to use. Simply apply it directly to clean, towel-dried hair section-by-section starting at the scalp and massage. Then, massage the entire head (who doesn't love that part?) to distribute the product evenly. Comb through, leave in, and style as usual. Indulge at least three times a week. Another perk? It smells incredible!
We haven't even gotten to the best part! The elixir is made up of similar essential molecules found in healthy hair fibers. The ingredients reinforce the structure of the hair from the inside out, roots to tips. You'll have less breakage, nourished, silky, luminous strands, improved elasticity and resilience, and even antioxidant protection. All of this is thanks to ceramides, a conditioning agent, and green tea extract. The magic potion works on all hair types and absorbs quickly. Popeye had spinach and we have Initialiste!
Just remember: Beautiful hair is the ultimate tool of seduction. Who doesn't want soft, nourished, strong, shiny locks? Stop by THE Salon Beauty Bar to check out the latest in Kérastase innovations!
xoxo